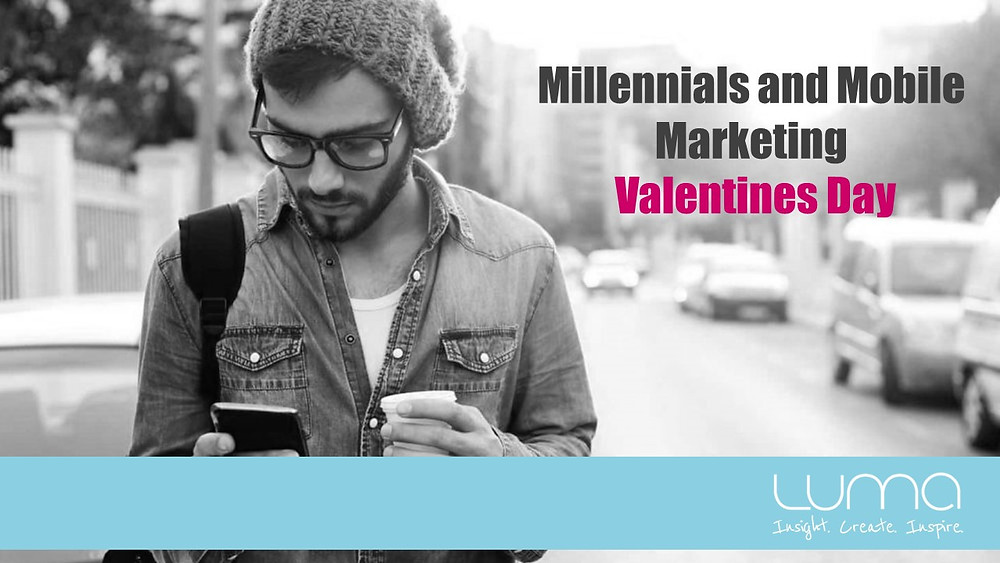 It's that time of the year again, and brands are releasing their Valentine ads to grab the spotlight in one of retails' busiest weeks of the year. Indeed, retail receives a massive hit during the first two weeks of February, with 2018 flower sales in Europe quadrupling, traffic in US gift shops more than doubling, and last minute buyers turning to mobile for the Valentines shopping.
Valentines day has traditionally been dominated by TV advertising, with retail brands releasing big single-channel Valentines day ads. However, research suggests omni-channel marketing is a much more effective way of reaching customers who are increasingly looking to eCommerce for last minute Valentine purchases.
This trend is unquestionably the most present in the millennial demographic (17-37 years of age). As the attention of this generation is fragmented across mobile, online, and on-demand media, companies must dip into multiple pockets to achieve effective communication.
Ebiquity, a UK marketing and consultancy agency, forecast the volume of TV ads seen by 16-34 year olds to fall 45% by 2022. Subsequently, effective ad prices will rise around 90% for this demographic. In the same year, the trend will hit a tipping point, Ebiquity suggest that there will be a 15-20% decline in TV viewing among adults. TV will no longer be the most cost-effective media channel for mass media. Return on Investment (ROI) will increasingly diminish as mCommerce, Influencers, User-Generated Content and purpose-driven marketing generate increased mobile time in key demographics.
Luma has found that mobile marketing has become an effective means of cutting through advertising clutter, particularly during intensive weeks such as Valentines Day. This mode changes the marketing environment as we know it. A 2018 survey of UK marketers by the Mobile Marketing Association found that 50% of UK professionals believe mobile is already disruptive in their industry. This figure is predicted to rise another 36% in the future.
The same study found that over the next five years, marketers will spend over a quarter of their media budget on mobile alone. Mobile is becoming increasingly mainstream, eating into traditional advertising such as TV and radio.
So let's look at some of the brands that turned to mobile marketing for their 2019 Valentine...
The #Hashtags are out!
#EscapetheNonsense - Ryanair
Ryanair's social media campaign was released across social media platforms, celebrating those of us who might be travelling solo this Valentines. Data from Research Live on WARC, found that almost two-thirds of millennials are saving money to achieve their desirable lifestyle: setting personal milestones such as their dream job and travelling.
Dunkin Donuts has opened an online contest, with live streaming on Facebook, instagram posts and snapchat Geofilters. This campaign employs effective User-Generated Content to engage customers using a rewards based system. Social media is the most effective platform to generate UGC marketing campaigns, with 88% of responders in the Ebiquity survey claiming social media to be the most used function on their phones.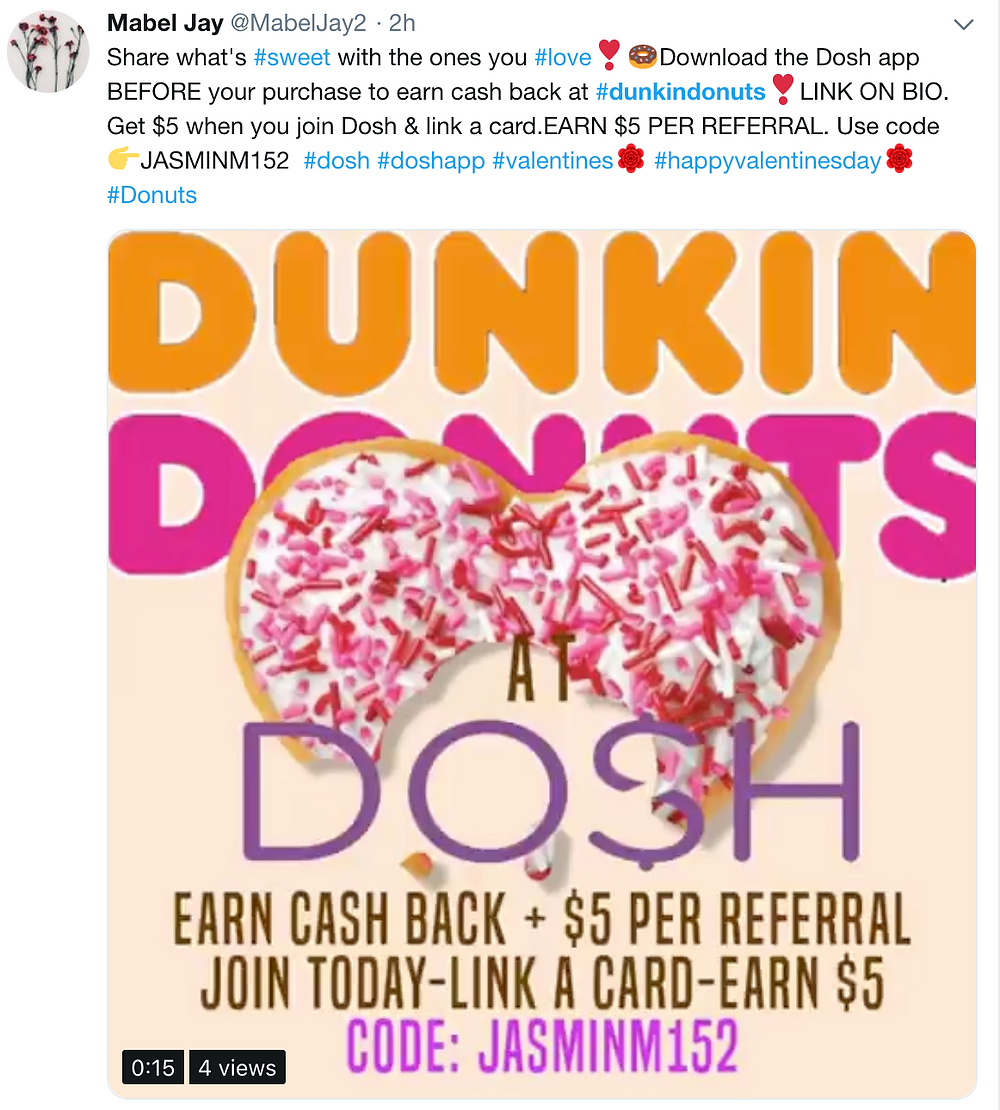 And some familiar campaigns...
KFC - Bearskin Rug
The fast food brand did not disappoint, fervently releasing its annual mobile marketing campaign. This year, a faux bearskin rug with the likeness of Colonial Sanders is up for grabs. The contest, hosted on Reddit, offers the winners two fried chicken pyjama onesies, a KFC gift card and a year long subscription to an online subscription service. To be eligible, you must enter either a photoshop battle, a storytelling challenge or a drawing duel - the theme: Romance.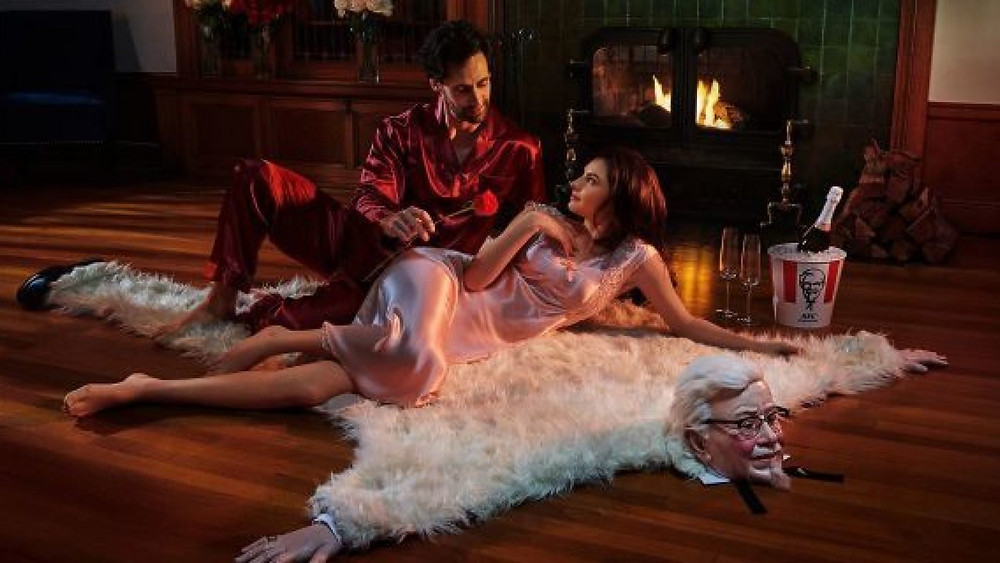 And some more alternative ones...
Natural Habitat Adventures and World Wildlife Fund (WWF) - Valentines Quiz
Millennial's love purpose driven marketing. A brand with a higher purpose is a brand worth buying. PR firm Weber Shandwick conducted an online survey in 2017, outlining the attitudes of US Adults towards CEO's speaking out about hot-button topics. The report found generational shifts, with 51% of millennial's claiming to be more likely to buy from brands who's CEO spoke out about an issue they agree with, compared to 33% for X'ers and 30% for boomers.
Interact Quiz maker provides the platform for Natural Habitat Adventures and WWF to generate a lead for the brand and drive traffic to their website. The quiz itself designates you a spirit animal based on the results of the quiz - then directs you to the WWF Fund email list where you are asked to help 'preserve your spirit animal' (donate). The quiz is easily accessible via mobile and offers valentine consumers a quirky and incentivising experience that supports a worthy philanthropic cause.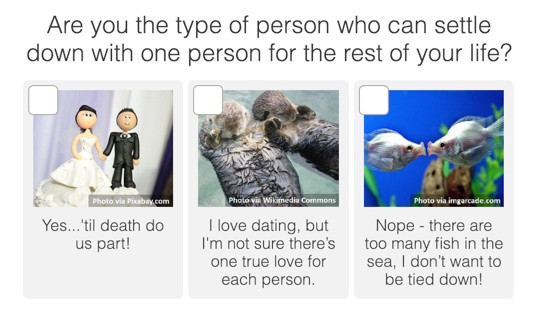 El Paso Zoo - "Quit Bugging Me!!!"
El Paso Zoo has released a campaign where visitors to the Texan Zoo can name cockroaches after exes before feeding them to the meerkats. The event was streamed live from the Zoo's meerkat Webcam in a new and different take on celebrating Valentines Day. The event had over 1500+ entries with submissions worldwide, including here in Australia. The event took off on Twitter, sparking a fun and alternative social media marketing strategy.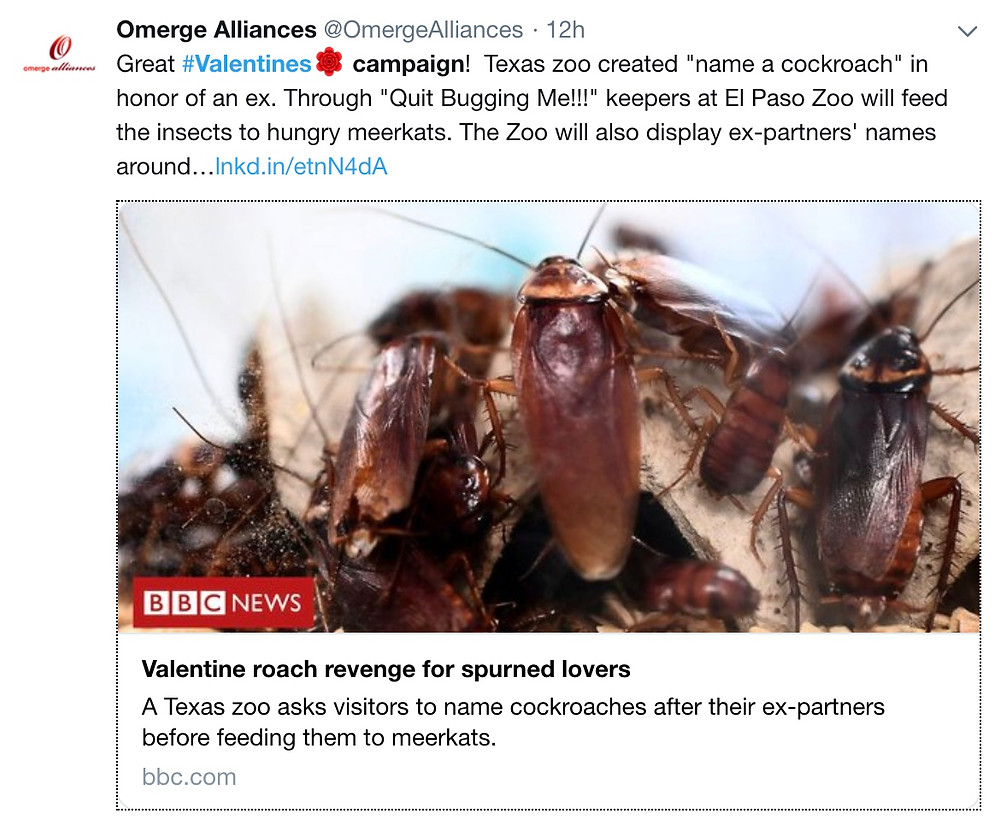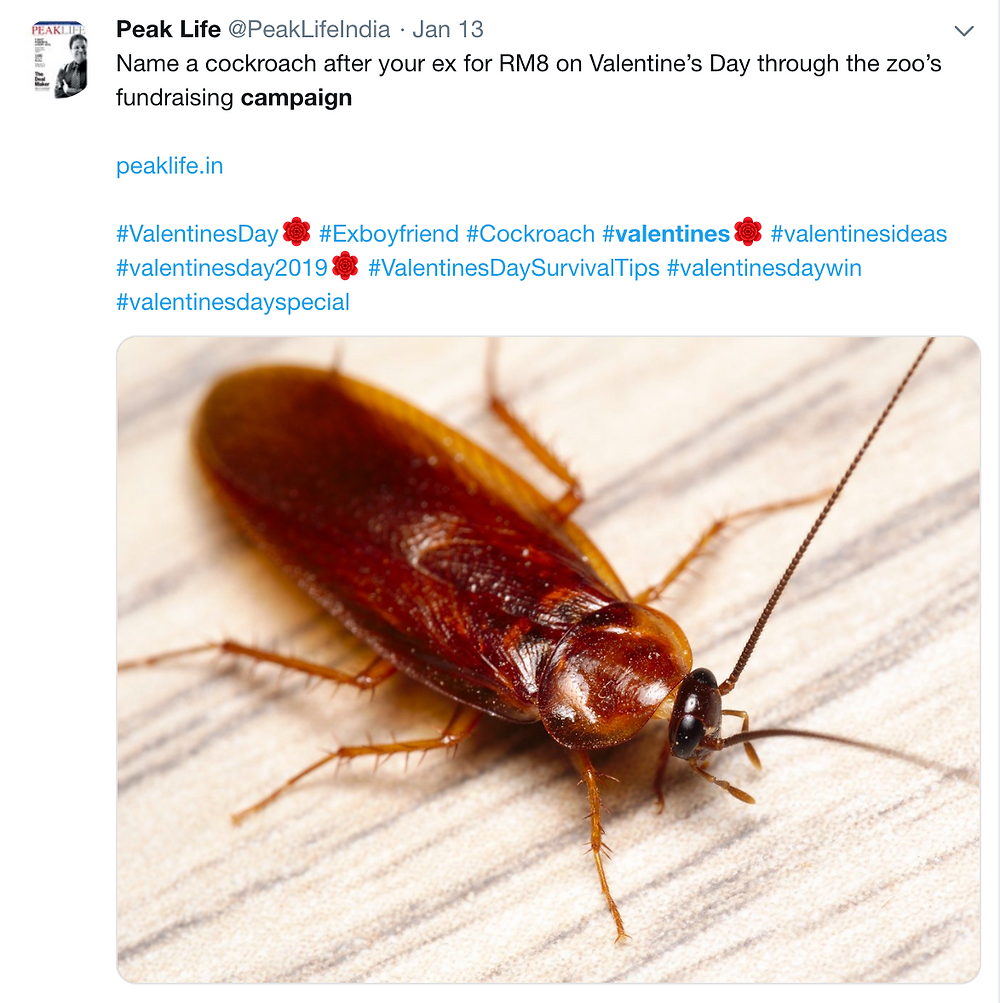 #