The New England Patriots set a Super Bowl record by coming back from a 28-3 deficit to beat the Atlanta Falcons 34-28. Prior to this no team had ever come back from more than a 10-point deficit to win. This has made Super Bowl History…..but what about the ads? Luma tested 30 of the ads within 2 days following the big game.
In this year's heated political climate some ads were politically provocative and others continued the tradition of using celebrities. Despite this only around one third were effective.
Here are the ads that Cut-through and generated the strongest Bonding to the brand.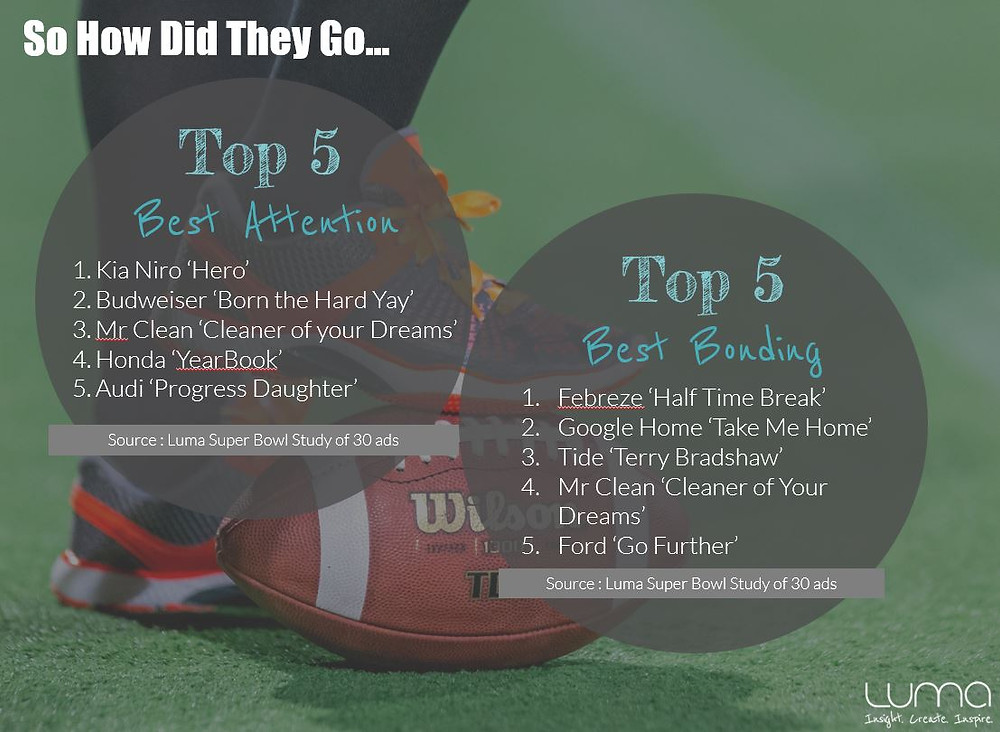 Some of the ads overcome the political divide – Mr Clean 'Cleaner of Your Dreams' and Kia Niro 'Hero' attracted the attention across the board. However Tide 'Terry Bradshaw' attracted the Trump voters while Audi 'Daughter' and 84Lumber worked better with Clinton voters.
This year we saw some hit and misses with celebrities. Melissa McCarthy worked brilliantly for Kia Niro whereas Justin Beiber for T-Mobile was less successful (they know him but didn't necessarily liked him).
We have tested over 100 Super Bowl ads over the past four years and would love to share the results with you……please just get in touch.